Your students.
Your site.
Your business.
We've created an automated booking solution to handle everything you need: scheduling and rescheduling, payment collection, automated zoom links, calendar syncs and more.
We center you, the artist, by giving you a personal booking portal which you can use in your social media and webpage to streamline the whole booking and appointment set up and keep costs lower than any other alternative to put more money in YOUR pocket
All you have to do is refer your students to your portal and watch the appointments come streaming in.
What will your booking portal do?
Offer any combination and more:
One-on-One Lessons
Masterclasses 
Group Classes
Class subscriptions
Semester options
You dream it. We'll create it.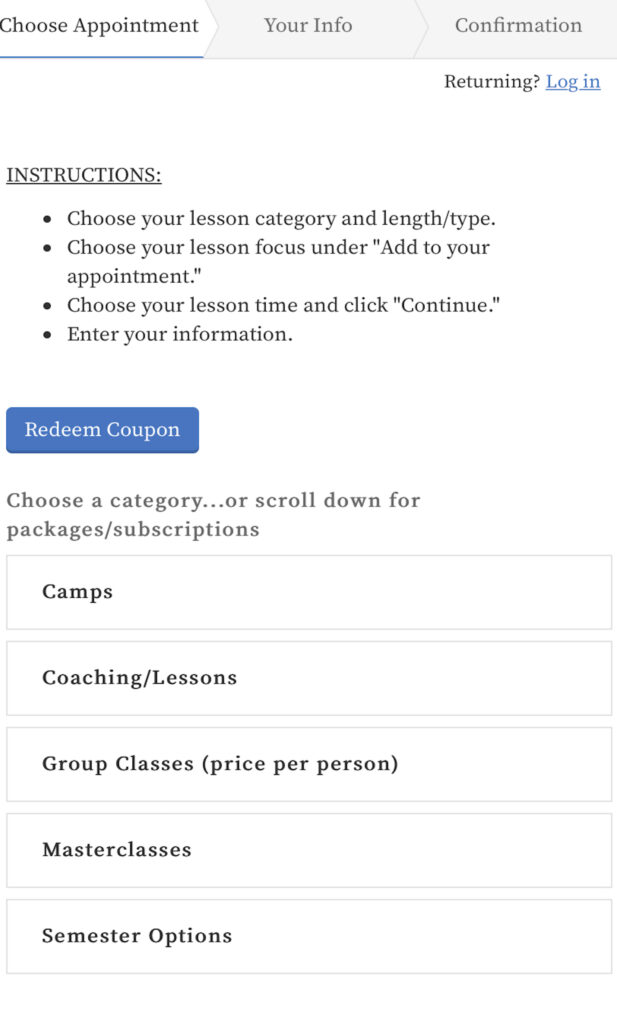 Client signs up for any single or combination of appointments they like and choose a time based on your availability.  

Once you sync your calendar (iCal, Google, etc), busy times will automatically be blocked off and new booked appointments will automatically be input in your synced calendar.

 
No more waiting to get paid!
Client pays for appointment(s) upon checkout by credit card or Paypal.
You get paid out every week through direct deposit or via CashApp
The best part?
AUTOMATIC ZOOM LINKS!!!
Why I created Empowering the Artist:
When our business shut down, everyone was trying to figure out how to survive in the new normal. Teaching seemed to be one of the few options available. But even if you had taught before, it was a belabored process scheduling and accepting payment from old and new clients via email.
There were a number of businesses capitalizing on the new online teaching explosion.  I've been asked to teach for a number of different online booking sites.  While helpful, I noticed they were taking quite a high fee, usually between 15%-30% on top of credit card fees.  Some sites have been even higher.  I also realized most sites just host my booking portal.  I am the one bringing in the business.  So, instead of giving away such a high portion of my teaching fee for business that I am actually generating, I decided to build my own portal. I realized there are many others in our community that are probably looking for a similar low cost, streamlined booking process.  Enter: Empowering the Artist. 
If you feel those sites are bringing you new business you couldn't find on your own, there is absolutely no harm in staying there. 
But for any students you bring in yourself, why not send them to your own portal and keep way more of your teachings fees for yourself?